About Us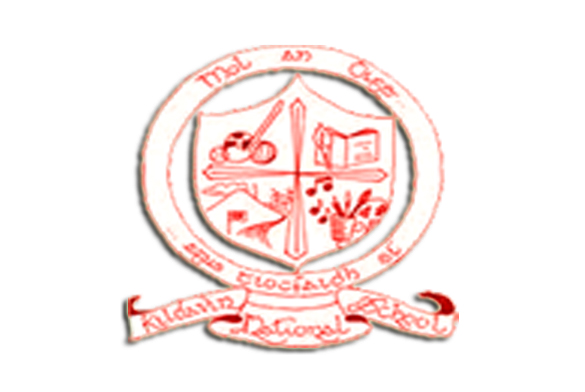 Our School Crest
In 2010 we held a competition amongst the children to design a crest which would symbolise our school.
The children applied themselves diligently to the task at hand showing a mature and full understanding of their brief.
The fruits of their labours were displayed for all to see in the foyer of the school. The task of choosing a winner proved too onerous for the panel and so a composite crest was designed incorporating the various images which best depicted the ethos of our school.
In the upper right quadrant the symbols depict learning. The core purpose of our school is teaching and learning. We constantly strive for excellence in both. This year our school was awarded one of the first ever excellence awards from W.I.T. for excellence in classroom management – team teaching. We believe that having high expectations of our pupils is one of the greatest compliments we can pay them. This quadrant also incorporates the torch of honour. In Kildavin N.S. we strive not only to develop a child's mind, but their character also. By focusing on the positive aspects of a child's learning, behaviour and personality we hope to further their development as responsible, mature adults.
The bottom right hand quadrant depicts our immediate environment. Our school is located in an area of stunning natural beauty. The symbols shows Mount Leinster with it's wind farm, the river Slaney and our schools Green Flag in the foreground illustrating our commitment to sustainability and environmental issues. We have been awarded two Green Flags, a Blue Flag Beach award and Green Coast award. We are also part of the Carlow Co. Council's School Anti-Litter League.
In the upper left quadrant you will see pictures depicting our commitment to sport for all and a healthy mind in a healthy body. In Kildavin N.S. we encourage participation in a wide variety of sports. We encourage team spirit and fair play. We are in the process of applying for the Active Schools Flag.
The children participate in the following sports and games.
G.A.A. – Boys / Girls Football Cumann na mBunscol Mini Sevens Competitions Hurling / Camogie Indoor Hurling / Camogie G.A.A. County Board Skills Training Soccer Skills Training F.A.I. 5-a-side Soccer Rounders Basketball Swimming
We hold an annual mixed age group 'Sport for all day.' The fourth quadrant honours the arts and the way in which they enrich all our lives. Kildavin N.S. is committed to participation in and enjoyment of the arts. We have an annual arts initiative in our school. Recently we have participated in several choral and visual art projects.
At the very centre of our school crest we placed a cross. Kildavin N.S. is a Catholic School. We welcome children of all faiths and none. Christ is at the centre of our lives and at the centre of all we do in school.
Enriching our crest, embracing all is our school motto
"Mól an Óige agus tiocfaidh sí"